History
Lesedi Show Choir was established in 2006. When it was founded, the main objective was to create a choir for people of the area around Heidelberg (Gauteng) and its township Ratanda, regardless of the colour of their skin.
However, the concept was too difficult to put into practice. Finally a black choir with a very powerful singing style was successfully started in Ratanda. This was the start of Lesedi Show Choir.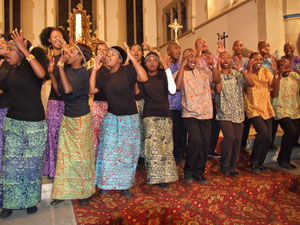 The choir has found its home in Woza Africa Centre, an art centre in Ratanda where group rehearsals take place on Mondays, Tuesdays and Wednesdays. Thanks to the Charta of Friendship between Heidelberg (South Africa) and Heidelberg (Germany), since the year 2008 Lesedi Show Choir regularly travels to Germany where they have workshops and concert tours with the German Moko Choirs of Eva Buckman.